Guest post by Christopher McKinney, Ph.D., Associate Vice President for Innovation Commercialization at August University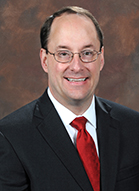 I recently had the opportunity to be a dinner speaker for Georgia Bio's Emerging Leaders Network and visited with the group about my career path, key trends in the license sciences industry, and successful strategies for career planning and searching. While aimed at an early career audience, this information may be useful for those throughout their careers. Here are the three key takeaways:
Career paths are the intersection of the head and heart. Many work to be very logical and diligent in the searching process. This is good! At the same time, being mindful of your gut instincts also is very important. Many in the industry tend to be data-guided when it comes to career paths. Yet, if truth be told, many of us actually use data to support what our subconscious tells us. Thus, if your career planning seems logical and feels good, you're probably on the right path.
A key trend in the life sciences industry is the increasing tendency by companies to recruit and promote "T-shaped professionals." These are individuals who not only have an area of great technical depth, but also broader "soft skills" and some additional technical skills across a wider range. Being great at one thing is important, but being well-rounded is becoming the differentiating factor for entry-level and more senior employees and leaders in the industry. Some would also say that what got you in the door isn't what helps you get a promotion, especially as you become ever more senior in the organization. In short, the life sciences industry is aiming towards employing and advancing more complete people in building and maintaining a competitive advantage.
Planning and searching are necessary challenges in managing one's own career but can be eased by using your network effectively. In today's increasingly competitive environment, having "warm" references is essential. What do I mean? When a hiring manager sees hundreds of resumes and CVs, that individual is overwhelmed with the enormity of narrowing down the pool. What can help? Having nominations and proactive references from known players can make a huge difference. For example, if you're applying for a position and can identify a colleague known to the hiring manager, having your colleague reach out to that hiring manager can help that individual view your application more favorably. And, for more senior positions, being nominated (as compared to directly applying) is often a key to success. Networking matters, and using your warm references from your network can help your searches.
At the end of the day, utilizing tips such as these can help make your career planning and execution more rewarding and enjoyable while relieving some stress along the way.